Space is supported by its audience. When you purchase through links on our site, we may earn an affiliate commission. Learn more
By Hanneke Weitering published
The flight is scheduled for Wednesday, Oct. 13.
Update: Blue Origin successfully launched its second crewed flight with four passengers aboard, including the actor who famously played Captain Kirk in the original "Star Trek." Read our full story here.
Live updates
Jeff Bezos' private spaceflight company Blue Origin will launch its second crewed space mission with William Shatner on Wednesday (Oct. 13).
After a 24-hour delay due to high winds at Blue Origin's launch site near Van Horn, Texas, the New Shepard rocket is now scheduled to lift off at 10 a.m. EDT (9 a.m. local time; 1400 GMT), Blue Origin announced on Tuesday (Oct. 12).
This new targeted launch time is 30 minutes later than Blue Origin had originally planned to launch. "The shift in launch target is due to forecasted winds at vehicle rollout," Blue Origin officials said in a statement (opens in new tab) Tuesday. "Weather currently looks good for launch."
Live Updates: William Shatner's Blue Origin launch on New Shepard
More: Blue Origin's launch of William Shatner explained
The 11-minute flight will launch Shatner and three crewmates above the 62-mile (100 kilometers) Kármán line, which is an internationally recognized boundary of space.
After a few minutes of weightlessness, the New Shepard capsule will return to Earth, capping the mission with a parachute-assisted landing at Blue Origin's West Texas facility. The New Shepard rocket will separate from the capsule before the crew reaches their maximum altitude, and it will touch down separately a few minutes before the capsule.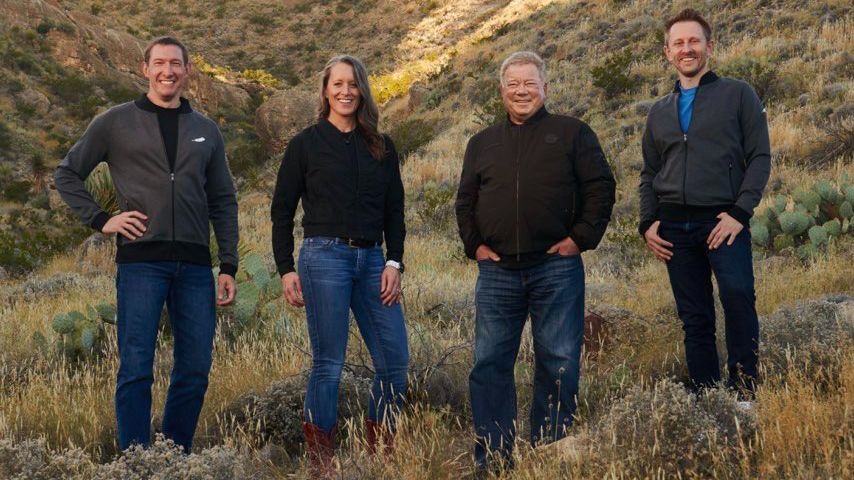 Blue Origin will provide a live broadcast of the launch and landing beginning about 90 minutes before liftoff, or 8:30 a.m. EDT (1230 GMT) if the mission remains on schedule.
You can watch the launch live here on Space.com (opens in new tab), courtesy of Blue Origin, or directly via the company's YouTube (opens in new tab).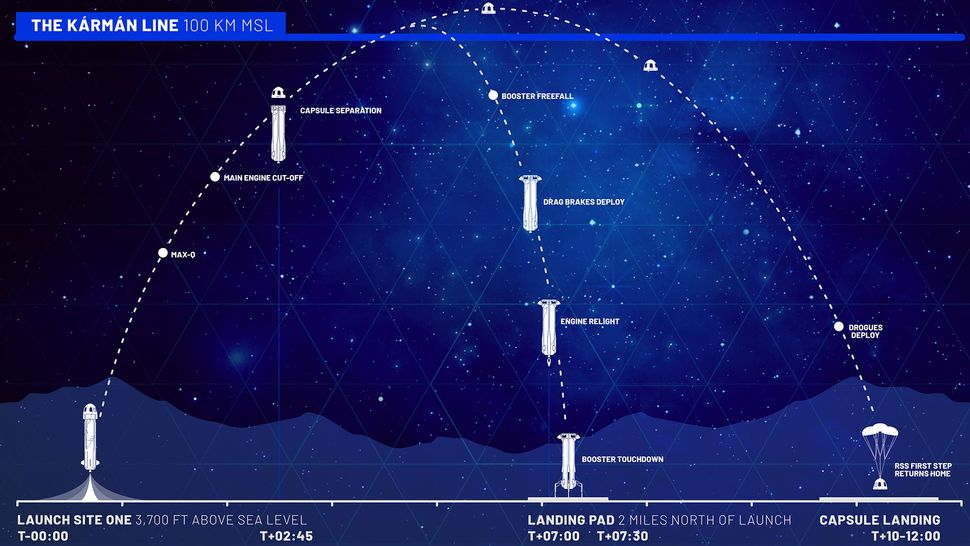 Email Hanneke Weitering at hweitering@space.com or follow her @hannekescience (opens in new tab). Follow us on Twitter @Spacedotcom (opens in new tab) and on Facebook (opens in new tab).
Join our Space Forums to keep talking space on the latest missions, night sky and more! And if you have a news tip, correction or comment, let us know at: community@space.com.
Hanneke Weitering is an editor at Space.com with 10 years of experience in science journalism. She has previously written for Scholastic Classroom Magazines, MedPage Today and The Joint Institute for Computational Sciences at Oak Ridge National Laboratory. After studying physics at the University of Tennessee in her hometown of Knoxville, she earned her graduate degree in Science, Health and Environmental Reporting (SHERP) from New York University. Hanneke joined the Space.com team in 2016 as a staff writer and producer, covering topics including spaceflight and astronomy. She currently lives in Seattle, home of the Space Needle, with her cat and two snakes. In her spare time, Hanneke enjoys exploring the Rocky Mountains, basking in nature and looking for dark skies to gaze at the cosmos.
Get breaking space news and the latest updates on rocket launches, skywatching events and more!
Thank you for signing up to Space. You will receive a verification email shortly.
There was a problem. Please refresh the page and try again.
Space is part of Future US Inc, an international media group and leading digital publisher. Visit our corporate site (opens in new tab).
© Future US, Inc. Full 7th Floor, 130 West 42nd Street, New York, NY 10036.