Space is supported by its audience. When you purchase through links on our site, we may earn an affiliate commission. Learn more
By Andrew Jones published
Zhurong's 10-month journey is visible from Mars orbit.
A NASA spacecraft orbiting Mars has spotted China's Zhurong rover down on the surface, providing an epic overview of the vehicle's travels through the red dirt.
The Mars Reconnaissance Orbiter (MRO) captured the image of Zhurong on March 11, according to a post (opens in new tab) from the researchers behind MRO's powerful HiRISE (High Resolution Imaging Science Experiment) camera.
Despite MRO orbiting 179 miles (288 kilometers) above, HiRISE managed to pick up the roughly 0.93 miles (1.5 km) of tracks that Zhurong has made journeying south since landing in May 2021, a cutout image with increased contrast shows.
Related: The latest news about China's space program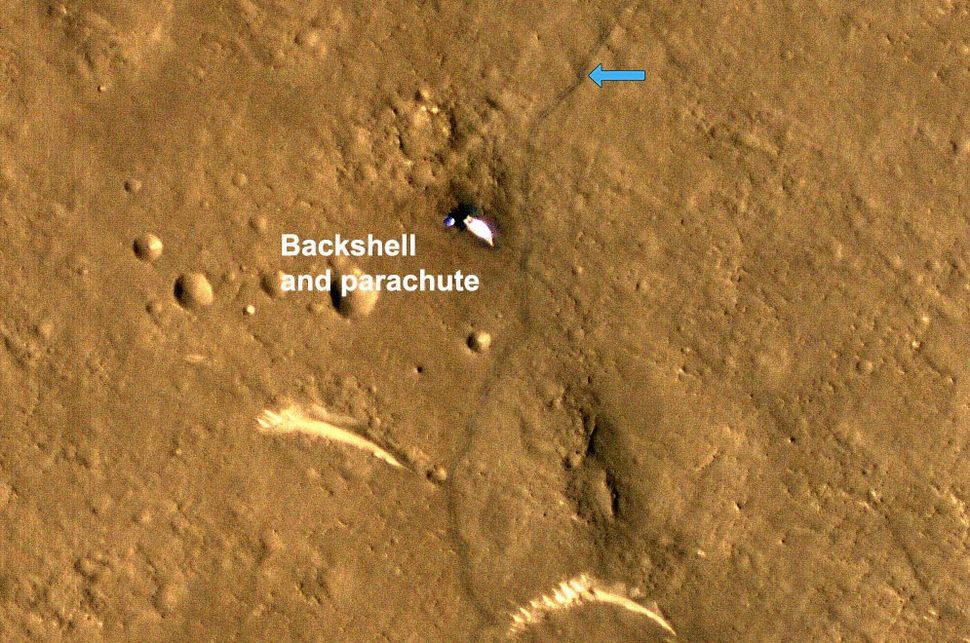 The photo shows that the rover visited the parachute and backshell that slowed Zhurong's descent through the thin Martian atmosphere while also surveying surface features, including dunes.
Zhurong is part of China's Tianwen 1 mission, which also includes an orbiter. Last month, that orbiter marked a full (Earth) year of circling the Red Planet. (Zhurong stayed attached to the orbiter for several months before separating for its May 2021 touchdown.)
Follow us on Twitter @Spacedotcom (opens in new tab) or on Facebook (opens in new tab).
Join our Space Forums to keep talking space on the latest missions, night sky and more! And if you have a news tip, correction or comment, let us know at: community@space.com.
Andrew is a freelance space journalist with a focus on reporting on China's rapidly growing space sector. He began writing for Space.com in 2019 and writes for SpaceNews, IEEE Spectrum, National Geographic, Sky & Telescope, New Scientist and others. Andrew first caught the space bug when, as a youngster, he saw Voyager images of other worlds in our solar system for the first time. Away from space, Andrew enjoys trail running in the forests of Finland. You can follow him on Twitter @AJ_FI (opens in new tab).
Get breaking space news and the latest updates on rocket launches, skywatching events and more!
Thank you for signing up to Space. You will receive a verification email shortly.
There was a problem. Please refresh the page and try again.
Space is part of Future US Inc, an international media group and leading digital publisher. Visit our corporate site (opens in new tab).
© Future US, Inc. Full 7th Floor, 130 West 42nd Street, New York, NY 10036.