Congratulating Kansas Suppliers for Historic Launch of NASA's Artemis I
Early Wednesday morning, NASA's Artemis I launched from the Kennedy Space Center. I want to congratulate NASA and the suppliers across Kansas that helped make this mission a success. As the top appropriator for NASA, I have spent the last several years traveling to NASA suppliers across Kansas and the nation that have spent years working to advance the Artemis Mission. I also had the opportunity to host then-NASA Administrator Jim Bridenstine in Kansas in 2018 and 2019. Earlier this summer, I hosted NASA Administrator Bill Nelson in Kansas. To see the successful launch from the Kennedy Space Center was humbling knowing the dedication and talent that was years in the making to reach this accomplishment. Sixteen suppliers across Kansas helped make this mission a success and many more will be involved in the years to come.
This week marked a new era for our nation's space program. I look forward to continuing to support this important mission and to see firsthand the benefits that will stem from this new exciting era of space exploration.
For the full list of Kansas suppliers that contributed to the Artemis I mission, click here.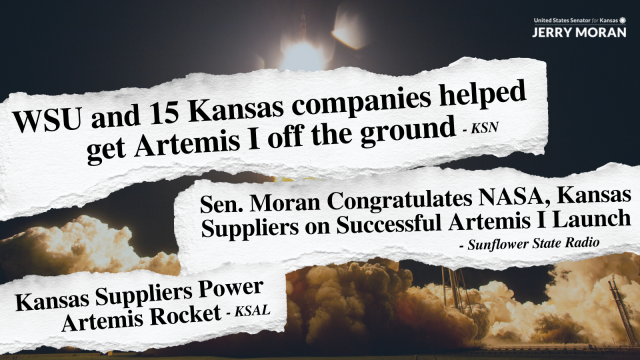 Meeting with Harvesters
On Thursday, I met with Karen Siebert, an advocacy and public policy advisor for Harvesters–The Community Food Network and Association of Kansas Food Banks. We discussed the increased need for food assistance as many individuals in our communities are facing food insecurity. As inflation continues to climb higher, the rising cost of food creates an increased burden on many Kansas families. As co-chair of the Senate Hunger Caucus and a member of the Senate Subcommittee on Agriculture Appropriations, I have supported investments in federal nutrition programs such as the Emergency Food Assistance Program (TEFAP) to provide food and basic commodities to help those in need.
As we celebrate Thanksgiving, I want to thank those who are volunteering or donating items to a local food bank. If you are able, I encourage Kansans to donate food to help those in need this Thanksgiving. To find a local food bank in Kansas, click here.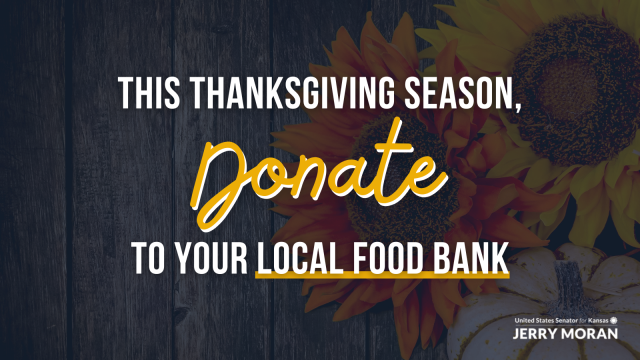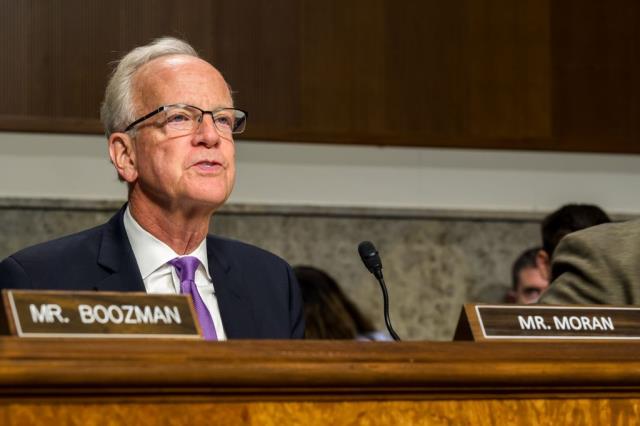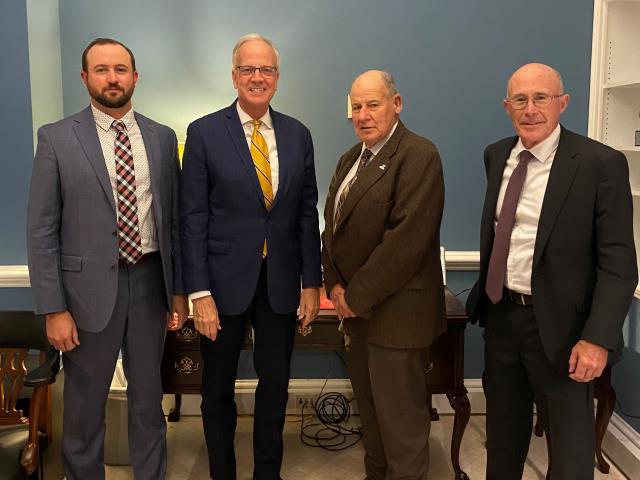 Banking Committee Hearing
During a Senate Banking Committee hearing on Tuesday, I questioned the Federal Insurance Deposit Commission (FDIC) Acting Chairman Marty Gruenberg regarding his decision to roll back banks' supervisory appeals process without public notice or comment. Providing a fair and effective supervisory examination process for banks is essential to maintaining a healthy and transparent financial system. I also questioned him on certain regulatory conditions that hurt community banks' ability to access funding from Federal Home Loan Banks (FHLBs), which provide crucial liquidity for the housing market. As a member of the Senate Banking Committee, I will continue to work towards the fair supervision of banks and sustaining the liquidity of the FHLBs.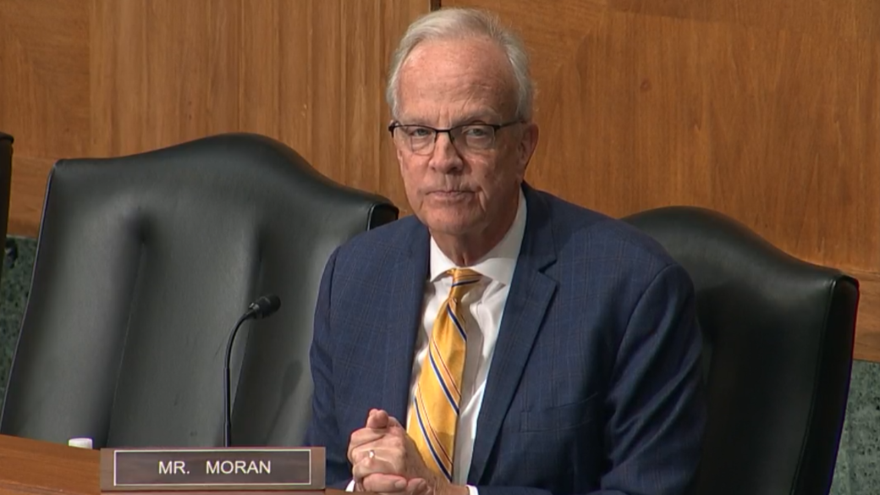 Meeting with Federal Deposit Insurance Corporation (FDIC) Board Nominees
I had the opportunity to meet with Federal Deposit Insurance Corporation (FDIC) Board nominees Travis Hill and Jonathan McKernan on Thursday. We discussed the current challenges facing our financial system and how federal regulators can best supervise financial institutions. These well-qualified nominees will bring balance to the FDIC board, and I am confident in their ability to lead the FDIC's mission to maintain stability and public confidence in our nation's banks.
Trey Krizek of Overland Park

Kevin Krizek of Derby

Angelina Torizzo of Overland Park

Conner McCaulley of Derby

Rebecca McCaulley of Derby

JoAnne Harris of Wichita

Kevin Alexander of Attica

Angela Alexander of Attica

Isabel Alexander of Attica

Jack Alexander of Attica

Amari Lewis of Kansas City

Adrian Torres of Kansas City

Dylan King of Shawnee

Jennifer King of Shawnee

Jameson King of Shawnee

Karen Siebert of Prairie Village

Brian Linn of Goodland

Monte White of Salina

Shayna DeGroot of Manhattan
National Immigration Law Center and United We Dream
Amari Lewis of Kansas City

Adrian Torres of Kansas City
Global Medical Response
Tina Wells of Topeka
Kansas Wesleyan University
Dr. Matt Thompson of Salina

Doug Keesling of Chase
BNSF Railroads
Vern Vanausdall of Baldwin City

Steve Titus of Hiawatha
Kansas LEND
Stephanie Coleman

Jessica Schuttler

Rene Jamison

Crystal Danko

Ashlynn Marx

Sydney Walls

Kourtney Christopher

Cal Christopher

Karen Cross
Kansas Soybean Commission
Dennis Gruenbacher of Andale

Susan Gruenbacher of Andale

Bob Haselwood of Berryton

Gary Louis of Merriam

Kaleb Little of Topeka

Dennis Hupe of Topeka
Immigration Voice
Dhivakar Jewan Kumar of Wichita
Note: Fields marked with an * are required.