Space is supported by its audience. When you purchase through links on our site, we may earn an affiliate commission. Here's why you can trust us.
The uniforms will be worn as the historic rivalry plays out on Dec. 10.
America's rich spaceflight history is taking to the gridiron.
During this year's Army-Navy football game, players for the U.S. Naval Academy will wear freshly unveiled NASA-inspired uniforms featuring iconic space agency imagery.
The Naval Academy revealed the uniforms (opens in new tab) on Monday (Nov. 21), showing off designs that feature iconic NASA imagery such as the agency's famous "worm" and "meatball" logos, the official astronaut pin and a spacesuit-clad astronaut performing a spacewalk.
Related: Spacesuited Snoopy doll floats in zero-g on moon-bound Artemis 1 mission
In a statement (opens in new tab) describing the design of the uniforms and the American spaceflight history they honor, the Naval Academy notes the long history of graduates turning to spaceflight. "Fifty-four United States Naval Academy graduates have gone on to become astronauts, the most of any institution," the statement reads, adding that "the first Naval Academy graduate to become an astronaut was Alan Shepard ('45), who was the first American in space (May 5, 1961) and was one of NASA's first seven astronauts."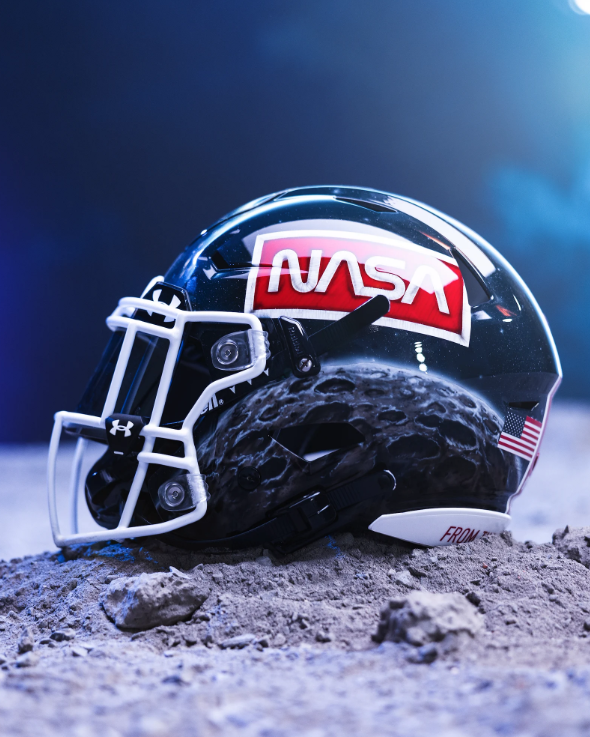 The Naval Academy's NASA-inspired uniforms are white with a red stripe, in a nod to one of the color schemes on NASA spacewalk suits. The typeface (font) on the uniform is Helvetica, the same one NASA has used for decades in its official logos and graphics, including on the space shuttle.
The uniforms' pants and gloves both feature the historic astronaut pin; silver pins are given when astronauts complete basic training, while gold pins are given upon completion of a spaceflight mission.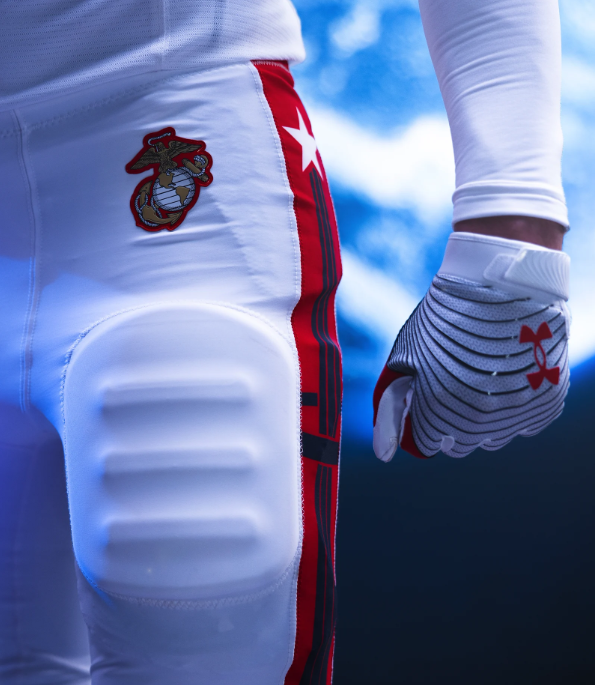 One side of Naval Academy's NASA-inspired helmets feature the iconic image of astronaut Bruce McCandless appearing to float alone above Earth as he performed a spacewalk during the STS-41-B mission in 1984 while wearing the Manned Maneuvering Unit propulsion system.
The helmet's other side, meanwhile, displays NASA's "worm" logo in red and white above an image of the moon. The uniform is finished off by a patch of the USS Enterprise, the U.S. Navy's first nuclear-powered aircraft carrier which helped track Friendship 7, the first American orbital spaceflight.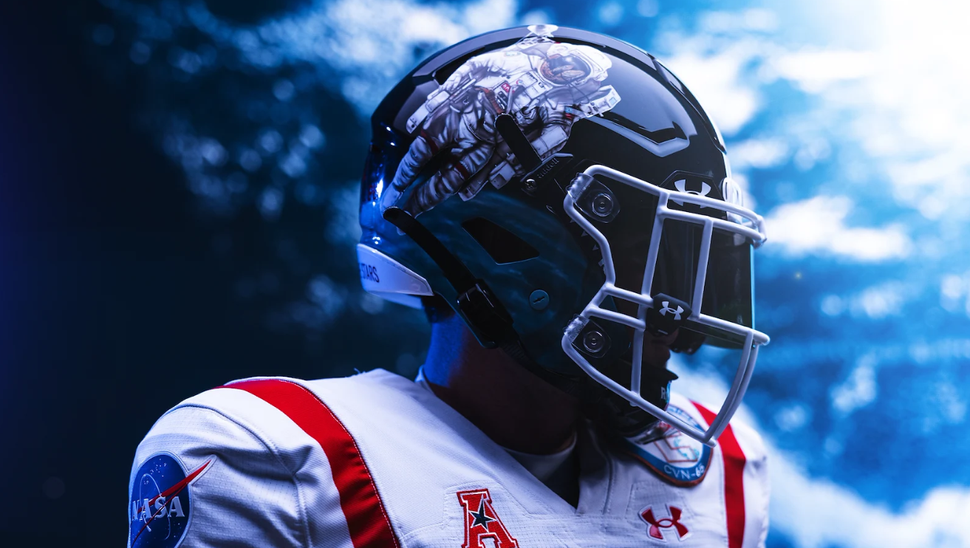 Even the Naval Academy's cleats are NASA-inspired, featuring an all-white design to mimic the boots worn by NASA astronauts during spacewalks. The soles of the cleats are multi-colored, evoking the appearance of a nebula seen in distant deep space.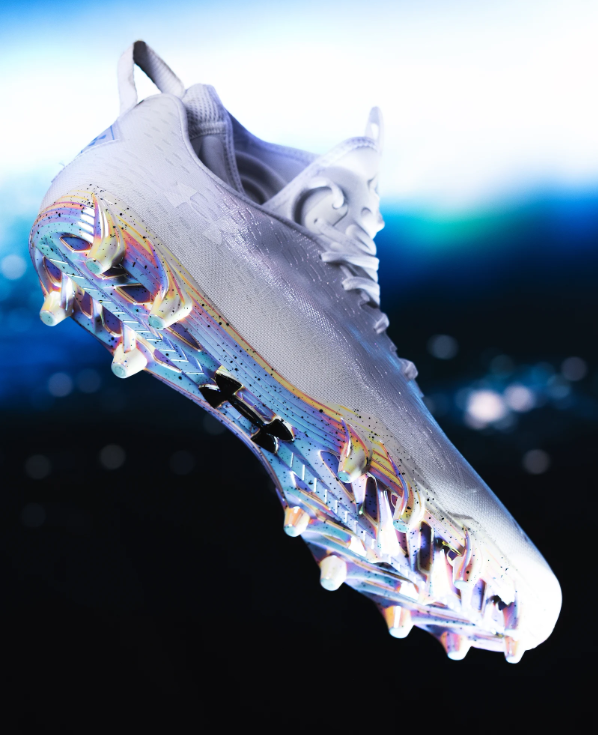 The Naval Academy's NASA-inspired uniforms will take to the field on Dec. 10 when the U.S. Naval Academy plays the United States Military Academy in the 123rd Army-Navy Game at the Lincoln Financial Field in Philadelphia.
Follow Brett on Twitter at @bretttingley (opens in new tab). Follow us on Twitter @Spacedotcom (opens in new tab) or on Facebook (opens in new tab).
Join our Space Forums to keep talking space on the latest missions, night sky and more! And if you have a news tip, correction or comment, let us know at: community@space.com.
Brett is a science and technology journalist who is curious about emerging concepts in spaceflight and aerospace, alternative launch concepts, anti-satellite technologies, and uncrewed systems. Brett's work has appeared on The War Zone at TheDrive.com, Popular Science, the History Channel, Science Discovery, and more. Brett has English degrees from Clemson University and the University of North Carolina at Charlotte. In his free time, Brett is a working musician, a hobbyist electronics engineer and cosplayer, an avid LEGO fan, and enjoys hiking and camping throughout the Appalachian Mountains with his wife and two children.
Paramount Plus is 50% off for Black Friday if you sign up for a year
Black Friday Deals live now: Telescopes, VR headsets, Lego and more
Get your sci-fi fix with HBO Max at $1.99 a month for three months
Thank you for signing up to Space. You will receive a verification email shortly.
There was a problem. Please refresh the page and try again.
Space is part of Future US Inc, an international media group and leading digital publisher. Visit our corporate site (opens in new tab).
© Future US, Inc. Full 7th Floor, 130 West 42nd Street, New York, NY 10036.